RESEARCH REPORT
CFOs are poised to transform finance organizations through AI and RPA.
Two-thirds of respondents in a recent Accenture survey said transforming finance operations through digitally-based systems is a priority.
AI and RPA can automate more than 80 percent of most finance functions, freeing finance professionals to concentrate on higher-value activities.
Robotic Process Automation (RPA), Artificial Intelligence (AI) and analytics are now widely available, and many companies are seeing spectacular results when they apply these capabilities to finance.
A global truck manufacturer, for example, used advanced analytics to identify $3 billion in revenue gains through analysis of market data. And a global logistics supply chain company deployed AI tools and RPA to increase finance process standardization from 1% to 80%, and reduce invoice processing time from 15 days to 1.
By adopting AI and RPA-based systems, finance leaders go beyond improvements in cost, productivity and compliance and control. They're freeing finance professionals from mundane, repetitive tasks that historically consumed 50 percent to 75 percent of staff time, enabling them to focus more on long-term planning and strategic ways to add value.
RPA: Just the beginning of transformation
RPA is a good place to start, but true transformation requires more. Leading companies fold AI into finance and accounting to reap further improvements.
Machine-learning algorithms can be trained to handle tasks similar to those of a skilled employee. For example, time-consuming accounts reconciliation can be 80 percent to 85 percent automated through RPA. Pairing RPA tools with AI can boost automation to 95 percent because an AI-based system can identify and dynamically adjust to changes—such as a new bank statement format— that disrupt RPA tools.
AI and RPA systems can free finance professionals from mundane tasks that have historically consumed 50 percent to 75 percent of staff time.
Five Rules for Leveraging AI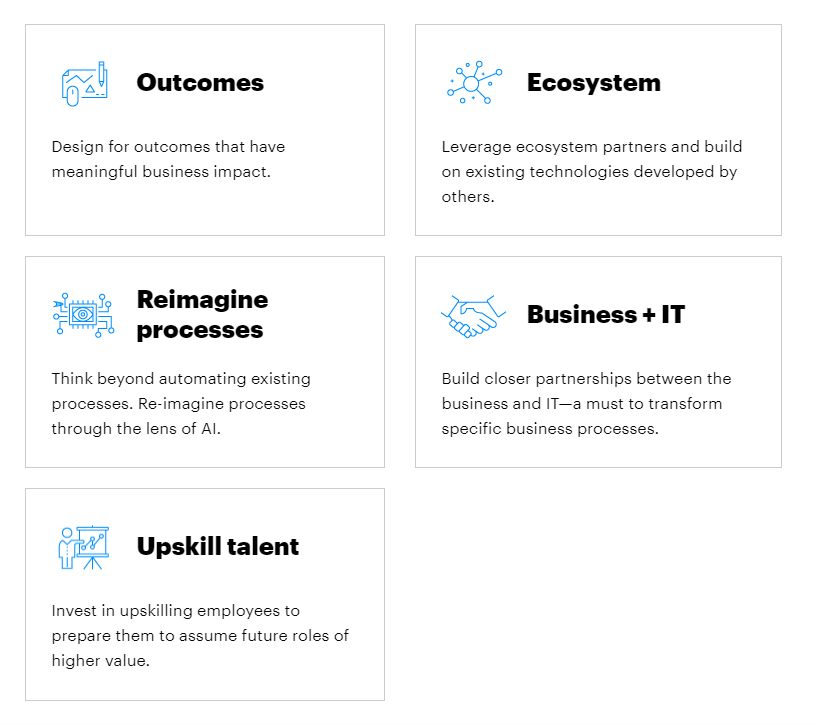 Ready to take the digital finance wheel?
Complex AI systems can't be built in a day but companies can realize significant benefits in weeks or months vs. the years required for many legacy ERP and data warehouse systems. In many cases, digital apps are already available for general-purpose functions, and more specialized applications geared to finance and accounting have become available.
To get started, companies should design for specific outcomes, think beyond incremental process improvement and strive to reimagine processes through the lens of AI. Strike the right combination, and you transform finance from cost center to generator of insights and revenue.
Source: Accenture